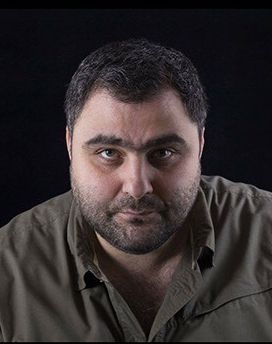 VAHAGN IGITIAN
1978 Born in Yerevan
1985-1995 Graduated from Yerevan secondary school after E.Charents
2001-2007 Armenian Agricultural Academy
2010 Member of the World Armenian Painters' Union
2012 Member of Artists' Union of Armenia
Personal Exhibitions
2010 "Artbridge" bookstore-cafe Yerevan, Armenia
2010 "ArevArt" Art Gallery Yerevan, Armenia
2011 "RobMar" Art Gallery Yerevan, Armenia
2012 Modern Art Museum Yerevan, Armenia
2014 Bimisal Art Gallery Istanbul, Turkey
Group Exhibitions
2009 "Two generation", Ministry of Culture Yerevan, Armenia
2009 "Youth Republican Group Exhibition", Artists' Union of Armenia Yerevan, Armenia
2010 "Love" Exhibition, Artists' Union of Armenia Yerevan, Armenia
2010 Exhibition in "Moscow House" Yerevan, Armenia
2010 "Youth Republican" Exhibition, Artists' Union of Armenia Yerevan, Armenia
2010 Exhibition of one work, dedicated to the 2150-th anniversary of Tigran the Great Yerevan, Armenia
2010 "Shorja" Exhibition, Artists' Union of Armenia Yerevan, Armenia
2010 St. Sarkis Exhibition, Artists' Union of Armenia Yerevan, Armenia
2010 Exhibition " Painters of Cinema and Theatre", Artists' Union of Armenia Yerevan, Armenia
2010 "Exhibition-Concert", Arevart Art Gallery Yerevan, Armenia
2010 Exhibition "95-Armenian Genocide", Ministry of Culture Yerevan, Armenia
2011 St. Sarkis Exhibition, Artists' Union of Armenia Yerevan, Armenia
2011 Exhibition "Ani 1050" Yerevan, Armenia
2012 "Youth Republican Group Exhibition", Artists' Union of Armenia Yerevan, Armenia
2012 Exhibition "10", Artists' Union of Armenia Yerevan, Armenia
2013 10th Anniversary of Arame Art Gallery Yerevan, Armenia
2013 Participation in the XVII Moscow International Art Salon "Process 2013", Central House of Artists, Moscow
2014 Selected Art Works 2014 Vienna, Austria
2014 "Beauty in the Palm" Beirut, Lebanon
2015 Participation in the XVIII Moscow International Art Salon "CHA-2015. People and the World", the Central House of Artists, Moscow
2015 Participation in the exhibition-competition "A 100 years later. The past in the present ", dedicated to the 100th anniversary of the Armenian Genocide. Museum of Literature and Art. Charents, Yerevan, Armenia
2016 Participation in the "Art beyond the time" Arame Art Gallery, Yerevan, Armenia
2017 Participation in the "LA Art Show", Los Angeles, USA
Since 2012 Vahagn Igitian's paintings are permanently exposed at Arame Art gallery.
Mystery of Colors…
While looking at Vahagn Igitian's artworks the first thing that you feel is the positive inner world that the painter tries to fill the canvases with. In his paintings he puts stress mainly on bright colors. With delicate taste he makes the combinations of blue and yellow, green and red. His figures' eyes are mostly closed, but so many things can be seen…an endless emotionality is hidden in these closed lonesome eyes as in "Shepherdess" 2012, "Flower Market" 2012, "St. George" 2012. In the artworks that from the first sight seem to be simple there is mystery. Despite some kind of rudeness and clear lines of figures there is lyricism in his paintings.
His landscapes are filled with warm colors peculiar to Sarian. The landscape "Shorja" (2011) is a unique one, painted with a palette full of warm colors which are masterly contrasted by the painter. Vahagn's artworks are distinguished by mild and specific combinations of his creative ideas which emit tranquility and positive aura.
Tatev Manvelian
Art critic