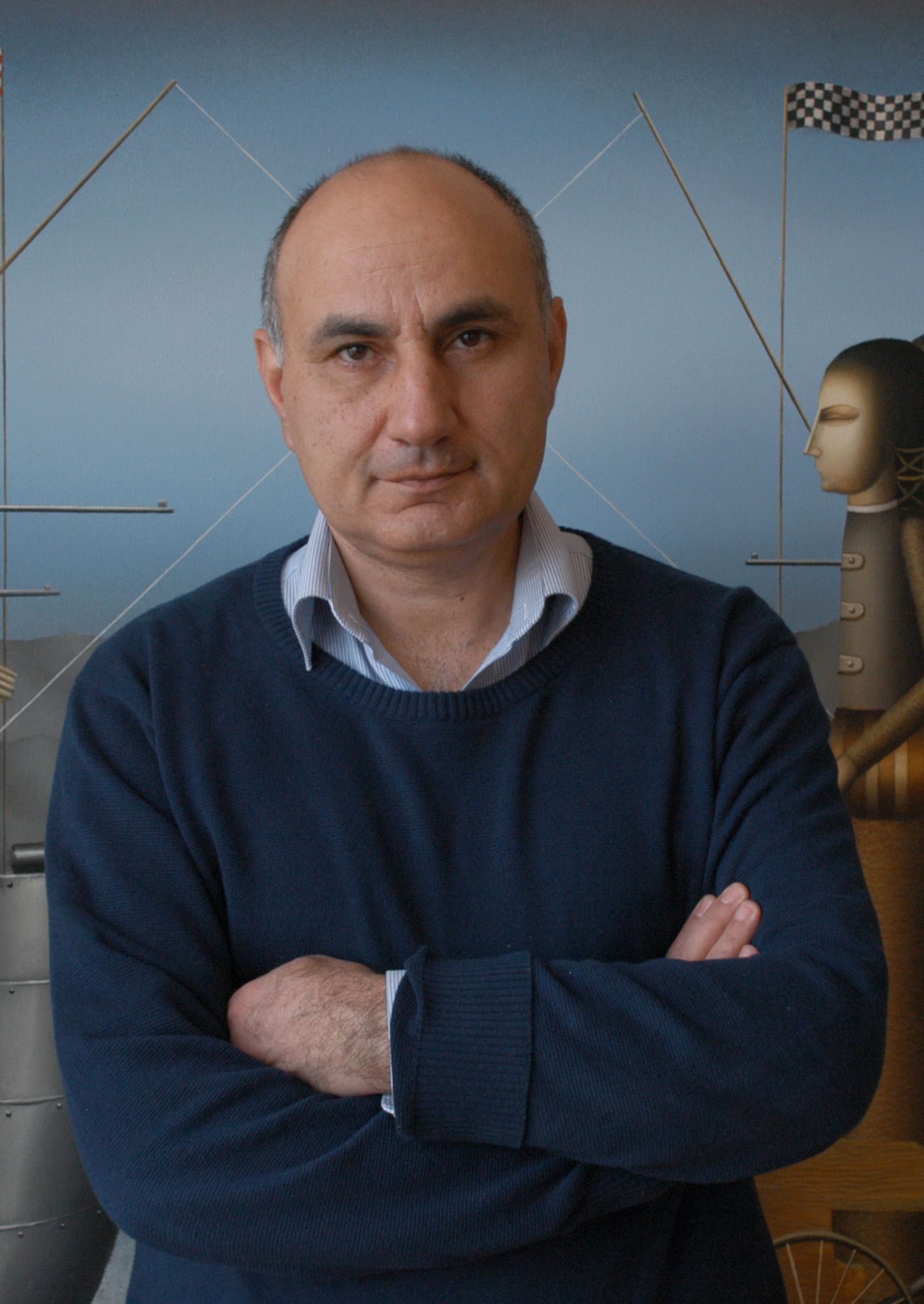 ARMEN GEVORGIAN
1958 Born in Yerevan, Armenia
1980 Graduated from Yerevan State Pedagogical Institute named after Kh.
Abovian (Fine Arts department)
1992 Member of the Artists' Union of Armenia
Since 1980 a constant participant of Republican and International group exhibitions and Art Fairs
2013 Arame Art Gallery published a catalogue devoted to his art.
Exhibitions
1992 Exhibition of Armenian Modern Art Israel, Jerusalem
1993 Armenian Modern Art Stockholm, Sweden
1994 Group Exhibition Beirut, Lebanon
1994 "Drouot" Auction Exhibition Paris, France
1995 "Emagos" Art Gallery Beirut, Lebanon
1996 "Alex Manoogian" Art Gallery Detroit, USA
1996 "Amberd" Gallery Beirut, Lebanon
1997 Post-Soviet Armenian Art Uruguay
1997 Igitian Modern Art Gallery Las Vegas, USA
1998 Group Exhibition Brazil
1998 Center of Borges Argentina
1999 Lineart Gent, Belgium
1999 International Art Exhibition Salzburg, Austria
1999 Third International Kunstmesse Innsbruck, Austria
2000 Duncan Campbell Gallery London, England
2001 Art Vienna Vienna, Austria
2007 Orangerie du Luxembourg Musee d`Art Moderne d'Armenie Paris, France
2010 Art Center of Haigazian University Beirut, Lebanon
2010 New Masterpieces of Arame Gallery Yerevan, Armenia
2011 UNESCO Palace with Arame Gallery Beirut, Lebanon
2012 Grand Opening of a new Art Centre of Arame Gallery Yerevan, Armenia
2012 "Symphony of Colors" Beirut, Lebanon
2013 Ten Year Anniversary of Arame Art Gallery Yerevan, Armenia
2013 Contemporary Art Istanbul, Turkey
2013 "Sensual Revelations" Beirut, Lebanon
2014 Contemporary Art Istanbul, Turkey
2014 ''Beauty in the Palm'' Beirut, Lebanon
2015 ''Inner Lighthouse'' Beirut, Lebanon Beirut, Lebanon
2016 "Art Beyond Time" Yerevan, Armenia
2017 ''Beirut Art Fair'' Yerevan, Armenia
2018 ''Reality of Bliss'' Beiruit , Lebanon
2018 '' A unique art show dedicated to 15th anniversary of the foundation of Arame′ Art Gallery Yerevan Armenia
2018 "Beirut Art Fair" Beirut, Lebanon
2018 ''Between Heaven and Earth'' Beirut, Lebanon
2019 "Beirut Art Fair" Beirut Lebanon
Personal Exhibitions
1996 Armenian Society for Cultural Relations Yerevan, Armenia
1999 "Vinizki" Gallery Munich, Germany
2000 "Vinizki" Gallery Munich, Germany
2001 "Europe" Gallery Palo Alto, California, USA
2001 "Vinizki" Gallery Munich, Germany
2002 "Europe" Gallery Palo Alto, California, USA
2003 "Vinizki" Gallery Munich, Germany
The works are displayed at Modern Art Museum of Armenia, Arame Art Gallery (Yerevan, Armenia), Vinizki Gallery (Munich, Germany), "Europe" Gallery (Palo Alto, California, USA) and in private collections in USA, Germany, Switzerland, Lebanon, France, Turkey. Since 2004 Armen Gevorgian's paintings are permanently exposed at Arame Art Gallery (Yerevan, Armenia).
What attracts ones attention at first sight is that the paintings of Armen Gevorgian reflect an individuality which is impossible to attain. It seems that everything is already done, seen and experienced in figurative art, so that it becomes rather complicated to avoid a fate of some appendage of famous analogues. But Armen is such an artist who could never accept the role of satellite, and we can apparently feel it both from his unusual, exceptional handwriting and irrational way of thinking.
Lacking daylight in his box-room like studio, completely isolated from the outward life, Armen travels with his personages, moving from one painting to another , changing surroundings and situations, and never leaving this rather strange, non-existing, but such an organic and native state, and never wishing to emigrate. Neatness and order he has established here are worthy of respect: no spontaneity, nothing from Bohemian chaos or artistic disorder, but, at the same time, not a bit of mathematical coldness.
The outline of plot in his unique one act performances is concentrated on the culmination point. Don't try to find hidden meaning, don't wait for mysterious ending, don't seek for morals. These laconic, apparently stagy stories are just games of a grown-up human being- neither infantile, nor naive. They are meditations of a kind dramatist who prefers to see conflicts only on the stage. Tune the time and listen to the music of the Mediaeval poetry. . .
The quantity of accessories that the artist operates with is rather limited: dummies, pointed caps, turbans, ornamental clothes and curtains, lances metal armour, easels, flowers, eggs – all these objects compose the strange and extraordinary world of Armen Gevorgian. The conditional character of environment pre-determines the situation. In spite of restrained coloring his paintings don't contain tragic or dramatic elements, they are calm and contemplative.
Armen is one of those artists who brake fully formed stereotype of ''Armenian'' multi-colored painting. Without showing a preference for any kind of color thinking, it is desirable that one should realize and accept the natural physiological origin of each creative person.
Although Armen is a hard worker, he never worries about quantity of his paintings. Armen does work for so-called elite, for a limited circle of artistic ''gourmets''. His paintings are not pretentious, they are enough democratic to be touchable and acceptable for different tastes, different audience, be it a common spectator or an experienced collector. One can recognize them among hundreds of paintings. As for admiring or loving them, we don't dare to deprive the audience of making its own choice.
Henrik Igitian

The artist has an amazing ability, every time to beat the familiar theme in a new way, and often one catches himself thinking that he waits for Armen's next canvas to see what he has prepared for his characters this time. Deliberately he "plays" with his heroes, seeking for them every time a new situation, new tasks, new rules of the game.
Zara Airoumian
Armen Gevorgian's paintings are the windows into the world of small dynamics, slow movements, but not of cool passion at all. The air is clear, fresh and chilly. Landscapes seem to be from "The Martian chronicles". Personages are elegant and full of inner dignity. And always preoccupied in each situation – life is a hard and an intricate thing.
Karen Mikaelian
Armen's new "Pause" series is the materialization of the artist's desire to take a break from his usual characters and style of painting, and explore different shades of his boundless talent. The result is truly impressive both in terms of philosophical content and artistic performance.
This new series fully reveals the multifaceted nature of the artist Armen Gevorgian. The approach is fresh and the content unexpected, but the unique signature of the artist can still be recognized in the undertones and general ambience of the painting.
Mané Sarkissian
---