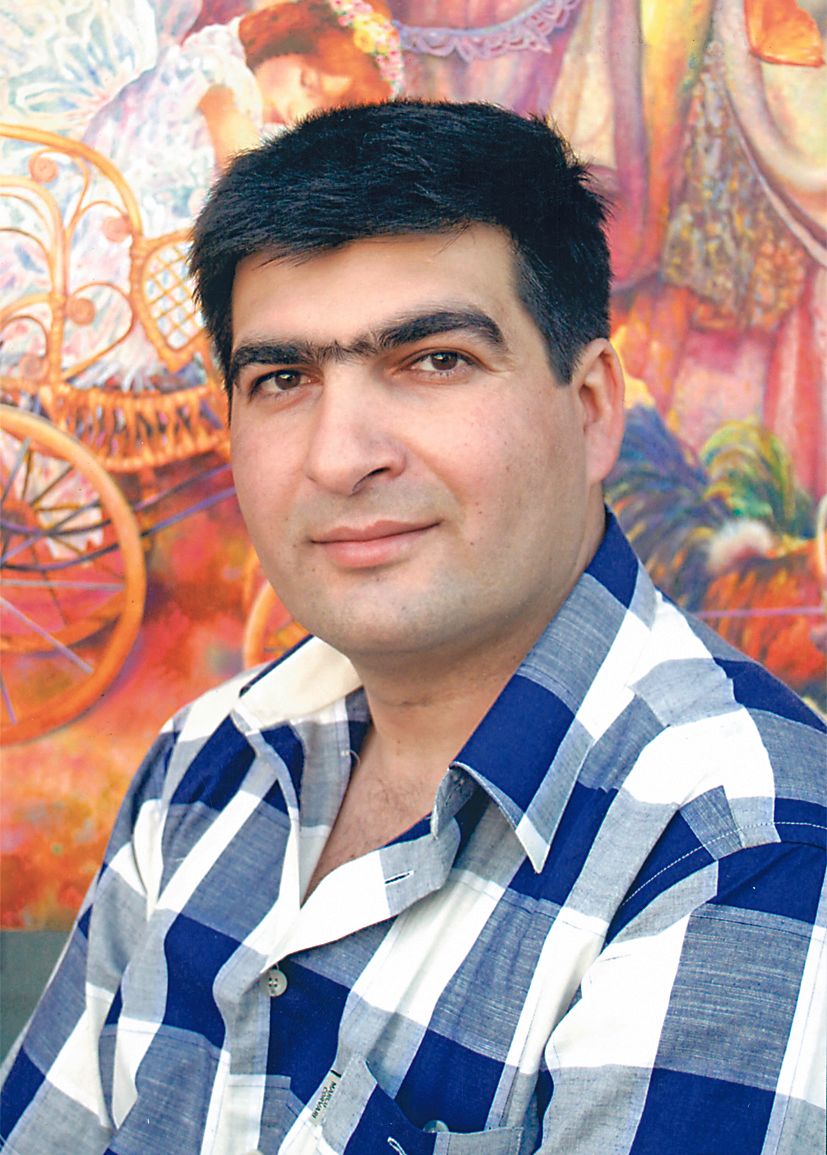 MARAT MARGARIAN
1969 Born in Gyumri, Armenia
1984-1888 Studied at Panos Terlemezian Arts college, Yerevan
1988-1994 Studied at Yerevan State Academy of Fine Arts
1995- Member of Artists' Union of Armenia
Group Exhibitions
1994 "Group Exhibition" Jerusalem, Israel
1995 "New Art" Gyumri, Armenia
1996 "Armenian Palette" Beirut, Lebanon
1997 "Armenian Days" Athens, Greece
1998 "Armenian Colours" Larnaca, Cyprus
2000 "Armenian Modern Art" Miami, USA
2000 "Group Exhibition" Istanbul, Turkey
2002 "Contemporary Art" Toronto, Canada
2003 "Romantic Realism" at Arame Art Gallery Yerevan, Armenia
2004 International Artexpo New York, USA
2004 Still-life at Arame Art Gallery Yerevan, Armenia
2007 Artists' Union of Armenia Yerevan, Armenia
2010 Art Center of Haigazian University Beirut, Lebanon
2010 New Masterpieces of Arame Gallery Yerevan, Armenia
2011 UNESCO Palace Beirut, Lebanon
2012 Grand Opening of a New Art Center of Arame Art Gallery Yerevan, Armenia
2012 "Symphony of Colors" Beirut, Lebanon
2013 10th Anniversary of Arame Art Gallery Yerevan, Armenia
2013 Selected Art Works Beirut, Lebanon
2013 AGBU Contemporary Armenian Art Pasadena, USA
2013 "Sensual Revelations" Beirut, Lebanon
2013 Representing Arame Art Gallery in Las Vegas USA
2014 Selected Art Works 2014 Vienna, Austria
2014 "Beauty in the Palm'' Beirut, Lebanon
2015 Representing Arame Art Gallery USA
2015 «Inner Lighthouse» Beirut, Lebanon
2016 Armenian Masters of Contemporary Art USA
2016 ''Spring Art Exhibition'' USA
2016 Representing the book "Art Beyond Time" Yerevan Armenia
2016 "Enchanted Reality" Beirut, Lebanon
2017 ''Beirut Art Fair'' Beirut, Lebanon
2017 «Celebration of Dreams» Beirut, Lebanon
2018 ''World Art Dubai'' Dubai
2018 A unique art show dedicated to 15th anniversary of the foundation of Aramé Art Gallery ''Reality of Bliss'' Beiruit , Lebanon
2018 "Beirut Art Fair" Beirut, Lebanon
2018 ''Between Heaven and Earth'' Beirut, Lebanon
2019 "Contemporary Armenian Fine Art" Kuwait
2019 ''Daydreams on Canvas'' Beirut, Lebanon
2019 "Beirut Art Fair" Beirut Lebanon
2019 "Symphony of Colours" Kuwait
2020 – "Spring Salon 2020". Artist's Union of Armenia, Yerevan, Armenia
2020 10th Anniversary Beirut Branch
2021 Qatar International Art Festival (QIAF)
2022 "Magical Transformations" Armenian Art Exhibition in Kuwait
2022 ''Masterpiece Show'' Beirut, Zaitunay Bay Branch
2023 Aramé Art Gallery presents ''The Infinite Faces of Nature'' Solo exhibition by Marat in Beirut, Zaitunay Bay Branch.
This is the Art that speaks for itself. The canvases are pictured from Life and Reality and reflect the artist's perception and feelings. It depends on the viewer how he attains the feeling and the understanding of the subject of the canvas. Marat Margarian pictures the world the way he perceives without imposing his views on the viewers. Marat's art belongs to him, to his inner world. In his search for new means of expressions he retrieves them within his predecessors, then inspiring fresh emotions and attaining new qualities. Choice of colors, selective to the artist, produces his unique works. Though the subjects of his works are common, it's implications are deep and eloquent. In "Smile", "Peaceful Coexistence", "Apple of Discord" we observe movement and emotional lights and shades.
Marat's paintings reflect connection between Life and World.
Gayane Igitian
Art critic
Marat's paintings have the ability to take anyone to a fairy world, where, at least for a moment, your reality is changed it to the amazement of little Alice in Wonderland. The artist himself says he is trying to create his own world, where there is almost no place for negativity.
The sensual and warm colors, the trickling sunlight and the intense retrospective mood absorb the viewer and move him into a fairyland of mystical trees that have a hypnotic effect on the observer.
I think Marat has managed to create by means of his artwork a singular therapeutic means, through which the onlooker is transmitted to childhood and to distinct, more positive reality at the same time.
Narien Vardanyan
Art Critic
"In this immeasurable world I try to create my own fairy tale, where I totally surrender to my dreams. Centuries pass, art never gets older, never loses its value. I live in the real fairy tale of nature, where Art is Nature's own voice, expressed by the man. The more faithful one stays to the nature within him, the more convincing and touching rings his art. As I seat in front of the canvas, a new world full of colors is revealed to me, a world full of childish laugh and bliss… From heart to heart – this is the only path of true creation, for me there is no art beyond emotion".
Marat Margarian
People think fairy tales are written for children to make them sleep, when, in reality, they are written for adults to make them wake up.
Marat Margarian's paintings have been an indispensable part of all Arame's expositions, since the very foundation of the Gallery. And all kinds of visitors feel helplessly attracted to them, always eager to admire the paintings for hours. When asked to explain their amazement, they all unfailingly make the same explanation: "Why! It's exactly like a fairy tale!"
And a fairy tale it is! The paradox, however, is that there is obviously absolutely nothing "fairy" in them! Blossoming or naked trees, fields full of flowers and happy children gathering them, a romantic couple in a boat, gorgeous seashores with waves hitting against the rocks; no one can deny that these are actually the most ordinary and palpable real things in the world, depicted in the most true-to-life manner possible. Marat, in fact, is a realistic painter, in the purest sense of the word.
So where does this sense of a fairy tale come from? How come it invades absolutely everyone, who witnesses his artworks? Is it possible, that the clue lies in our own perception and the singular talent of the artist to shake our worldview and just in a second make vanish the thick veil of negativity in front of our eyes?
True, the Art of Marat is a fairy tale, but an adult one - a faithful picturing of real life as it actually is, as we all experience it when we fall in love. By means of his Art Marat makes us fall in love with reality itself, to be able to see beauty and innocence on peoples' faces, to observe the subtle changes light conveys to everything around us, to feel fascinated by the fleeting metamorphosis trees undergo in all seasons of the year, to submerge into the romantic atmosphere of Yerevan streets in daytime and at night and experience peace and humility from the touching beauty of laboring Armenian women, making bread for their families, in the warmest of atmospheres, conveyed through the bright coloring of their clothes and the plays of light and shadow on the background.
This is the purpose of all true Art – to make us release all the negativity, so we become conscious of the Paradise we actually live in. That's why true Art is actually comprehensible for everyone, regardless of all the illusionary differences, for it carries a universal message that speaks to the heart.
This is the Art of Marat Margarian; the composer of adult fairy tales, that make us wake up.
When writing about somebody's art, the artist himself often remains in the shadow, without any hint to his or her personality and individual characteristics. It's really worth breaking this custom in this particular case and just describe in a few words the unique personality of this amazing Man and Artist.
Physically strong and acutely sensitive to injustice, in college Marat would have rows with anyone who dared not to behave manly and honestly. No one would have the courage to offend a girl in his presence. For the ones who manage to make friends with him, Marat is singularly invaluable. Incredibly handy at absolutely everything, enormously openhearted and willing to help anyone in any kind of situation and at any hour of day or night: no wonder his friends call him "911". With his beautiful personality Marat reaffirms the truth of the famous quotation: "A talented man is talented in everything".
Mané Sarkissian