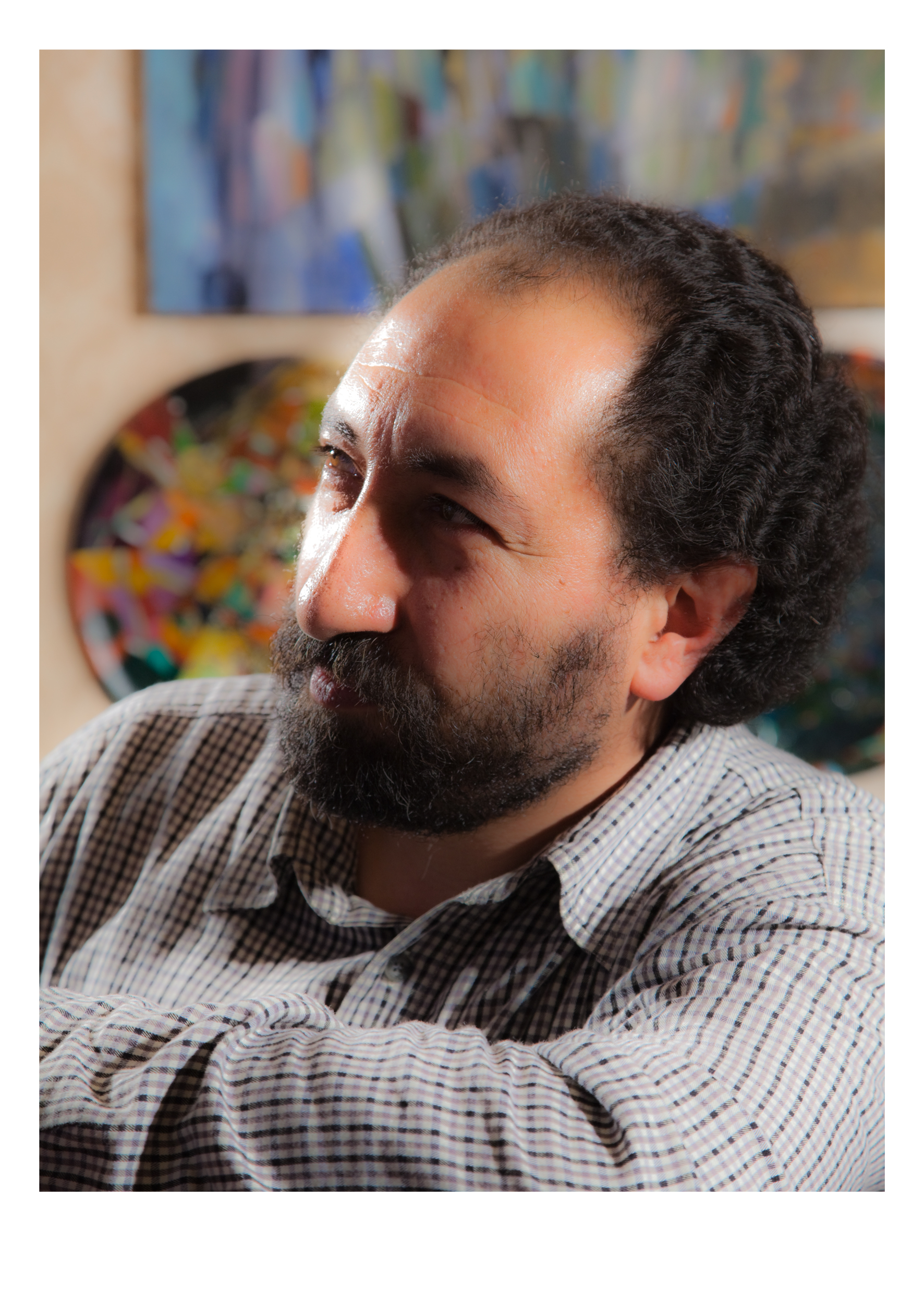 VAHAN ROUMELIAN
1963 Born in Yerevan, Armenia
1980-1986 Panos Terlemezian Fine Arts College, Yerevan, Armenia
1987 Graduated from Fine Arts Institute, Yerevan, Armenia
1987 Joins Alternative Art Movement the Third Floor
1988 Spends 3 months in Paris studying Abstract Art
1991 Visits the UK and France for studying Contemporary art
1997-2006 Settles in Moscow
Exhibitions
1989 Salon des Indépendants, Grand Palais Paris, France
1989 International Exhibition Moscow, Russia
1989 'Happenings',Lithuania, Banevijis Baltic States
1991 Galerie les Cents Paris, France
1994 Artists' Union, Abstractionism Armenia, Yerevan
1995 'Bochum Museum' Bochum, Germany
1996 Group exhibition Moscow, Russia
1998 First International Biennial Gyumri, Armenia
1998 Caribe Galerie de Arte Sao Paulo, Brazil
1999 Artuel,Salon International d'Art Contemporain Beirut, Lebanon
2001 EURO'ART,V Salon International d'Artistes Contemporains Barcelona
2004 Gallery 'A way to New-Abstractionism' Moscow, Russia
2004 WCAF Show, Hilton Convention Center Las Vegas, USA
2005 Galleria d'Arte Rinascimento Florence, Italy
2006 International ArtExpo New York, USA
2007 International ArtExpo New York, USA
2007 Exhibition Anticlassical Buenos Aires, Argentina
2007 Exhibition Orangerie du jardin du Luxembourg Paris, France
2008 Castel Sant'Angelo Rome, Italy
2009 International ArtExpo China
2010 Artists' Union of Armenia Yerevan, Armenia
2010 Modern Art Museum Yerevan, Armenia
2010 "New Masterpieces of Arame Gallery" Yerevan, Armenia
2012 Grand Opening of a New Art Center of Arame Art Gallery Yerevan, Armenia
2012 "Symphony of Colors" Beirut, Lebanon
2013 10th Anniversary of Arame Art Gallery Yerevan, Armenia
2013 Selected Art Works Beirut, Lebanon
2013 "Sensual Revelations" Beirut, Lebanon
2014 Selected Art Works Vienna, Austria
2014 "Beauty in the Palm'' Beirut, Lebanon
2015 «Inner Lighthouse» Beirut, Lebanon
2016 Representing the book "Art Beyond Time" Yerevan, Armenia
2016 "Enchanted Reality" Beirut, Lebanon
2017 Arame Art Gallery presents "The Harmony of Chaos" by Vahan Roumelian Beirut, Lebanon
2017 ''Beirut Art Fair'' Beirut, Lebanon
2018 A unique art show dedicated to 15th anniversary of the foundation of Aramé Art Gallery ''Reality of Bliss'' Beiruit , Lebanon
2018 "Beirut Art Fair" Beirut, Lebanon
2019 "Contemporary Armenian Fine Art" Kuwait
2020 – "Spring Salon 2020". Artist's Union of Armenia, Yerevan, Armenia
Vahan's paintings are process of capturing human being's soul. A process of seeing without necessity of any explanation. The artist of admirable pictures is able to see and whatever he sees is viewed in his artworks. The contradiction which is combined in a human being is expressed by him turns into art poetry. He makes the colors breathe and his paintings like the sounds fly in the space and a music of color is created. The artist's aim is to achieve the highest quality, to be able to create elements of new sharps, to flow up with the colors on the canvas that is to say the means of achieving the goals. I'm looking for a speed and action in art, speed as means but as final goal and action as a life start.
Kh. Rudolf
Academic of Russian Artists Academy
( Moscow)
Vahan's paintings confront the viewer with the purely physical act of painting. He expertly uses his medium to represent extreme states of emotion, pouring and flinging paint onto the canvas. Each painting is a record of an intense existential encounter between his body and his materials. Vahan's palette, either raucously colorful or restricted and subdued, heightens the sense of the artist's willingness to confront life in a strong full-frontal battle. Most of his canvases are titled with time "At 15 o'clock" or "At 12:30 o'clock"- indicating that they register a very specific experience. Like Jackson Pollock's drip paintings, Vahan's works are the residues of a performance. His attacks and jabs and slabs of color coalesce into a dynamic yet balanced whole. The pictures are spontaneous, yet are the result of a very refined intuitive activity, tuned by meditation and refection. Vahan believes in the heroism of aesthetic activity, bringing to it a new heightened urgency.
Kathryn Hixson
Art Critic (New York)