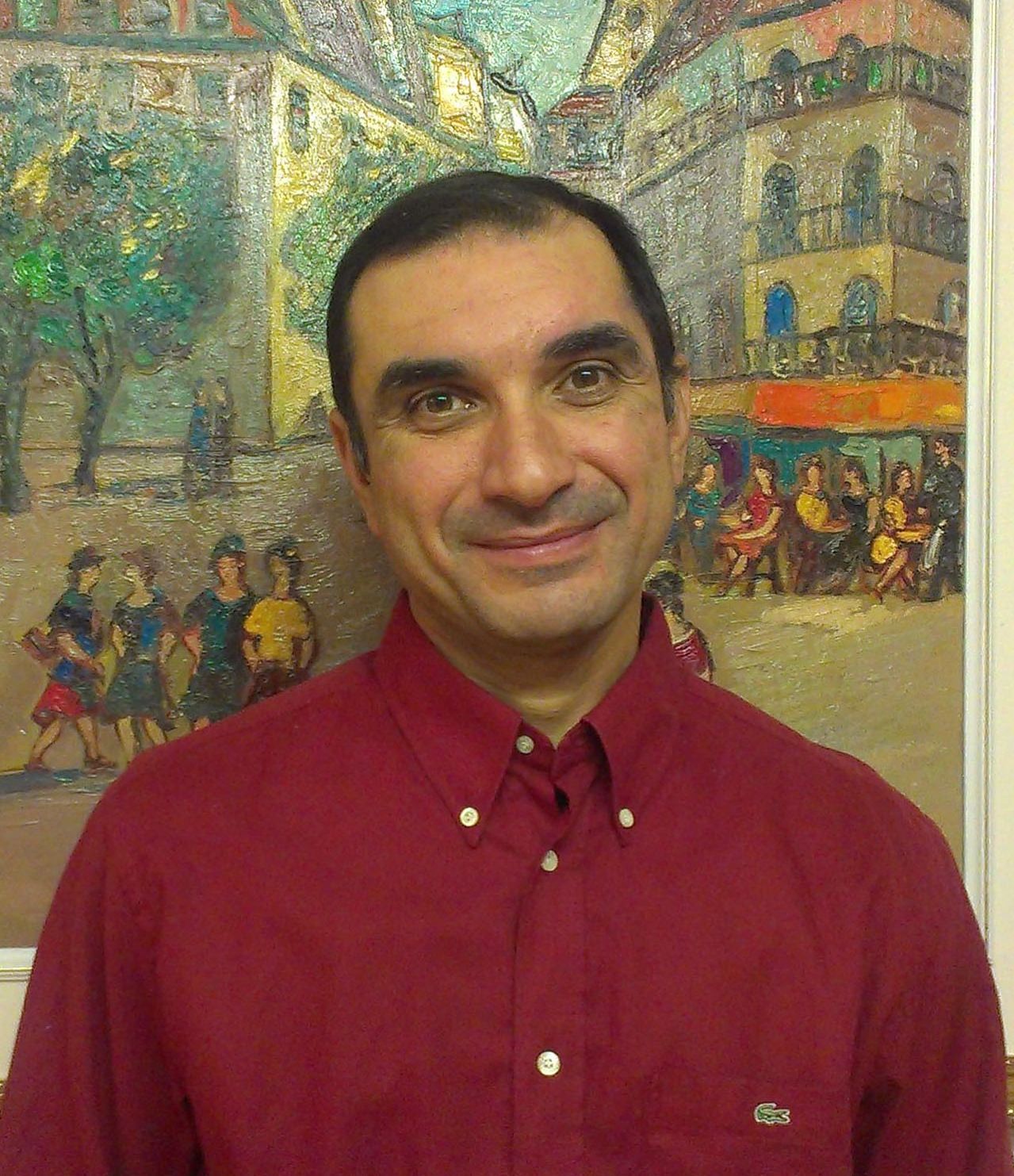 AREG ELIBEKIAN
1970 Born in Armenia
1992 Graduated from Yerevan State Academy of Fine Arts
Areg's works are displayed at the Modern Art Museum of Yerevan and Alex & Marie Manoogian Museum of Detroit
Since 2009 works as an art instructor at the Montreal Museum of Fine Arts
Areg displays series of his works done in his homeland Armenia for the Ottawa Armenian Festival
Personal Exhibitions
2016 Personal Exhibition of Areg Elibekian's artworks in Arame Art Gallery Yerevan, Armenia
2016 Stewart Hall, Pointe-Claire, Quebec, Canada
2014 Museum of Fine Arts Montréal, Canada
2002 Galerie Klimantiris Montréal, Canada
2001 Karen Mitchell Frank Gallery Dallas, USA
2000 Galerie Soleil Montréal, Canada
1999 Noah's Ark Gallery Beirut, Lebanon
1998 Galerie 22 Antwerpen, Belgium
1997 Galerie L'Oeil Brussels, Belgium
Permanent Exhibitions
Galerie Klimantiris Montréal, Canada
Galerie Soleil Montréal, Canada
Galerie Jacqueline Lemoine Paris, France
Galerie Daniel Besseiche Pont-Aven, France
Karen Mitchell Frank Gallery Dallas, USA
Harbour Gallery Mississauga, Ontario
Group Exhibitions
2019 St. Illumintaor's Cathedral New York, USA
2018 Association Hamazkain - Montreal, Canada
2017 Galerie Z - Providence, RI., États Unis d'Amérique
2016 "Enchanted Reality" Beirut, Lebanon
2016 Representing the book "Art Beyond Time" Yerevan, Armenia
2014 "Beauty in the Palm'' Beirut, Lebanon
2013 "Sensual Revelations" Beirut, Lebanon
2013 Selected Art Works Beirut, Lebanon
2013 10th Anniversary of Arame Art Gallery Yerevan, Armenia
2011 Gallery Z Providence, USA
2009 Gallery Z Providence, USA
2006 Gallery Z Providence, USA
2005 Alex and Marie Manougian Museum USA
2005 Tekeian Cultural Association Pasadena, USA
2005 Daniel Besseiche Gallery Paris, France
2004 Gallery Jacqueline Lemoine Paris, France
2002 Galerie Jacqueline Lemoine Paris, France
2001 International Art Expo New York, USA
1999 Galerie Claude Bessard Paris, France
1997 Armenian Library Museum of America Boston, USA
1996 Native Gallery Providence, USA
1995 Alex and Marie Manougian Museum Detroit, USA
1993 Hamazkayin Art Gallery Toronto, Canada
1992 Tekeyan Armenian Cultural Association Montréal, Canada
1992 International Art Center Lebanon
1991 Artists' Union of Armenia Yerevan, Armenia
Since 2012 Areg Elibekian's paintings are permanently exposed at Arame Art Gallery, Yerevan, Armenia.
Areg's work is a straight forward reading, well defined, implying solidity and permanence. His works mainly involve the Bourgeoisie; the upper middle class, the affluent society and Café society. His delineation of urban landscape is highly sophisticated as his paintings are consistent in quality where the subjects determined by architectural streets, parks, churches and docks. His penchant toward impressionism led Areg to a personal, consistent, and communicable view of man's environment.
He painted light-hearted scenes of recreation, applying large areas of bright color with superimposed flowing outlines, and in his open air views, impressionist-inflected study of intense light and color. Areg has discovered a whole host of new themes in the elegant world of entertainment, where the canvas is alive with activity, mobility, gaiety and warmth imbued with optimism.
In his landscapes and scenery, some of which are virtually monochromes, he is a student of nature, which he considers his master. In these lyrical and glowing landscapes, he employed numerous painterly devices to produce convincing detailed depictions with Duffy-like clarity. Incisiveness of his observation is matched be delicacy of his touch; the ingenuity and brilliance of his compositions are equaled by the subtle beauty of his colors. It is the tone of his imagery, as much as the novelty of his style that makes him different from his contemporaries. His images are visual experiences in very spontaneous terms; they retain a sense of impressionist spontaneity. The also express a semi-articulate nature-mysticism.
Dr. Garabed Belian
Historian
"Outremont on canvas"
Few artists have painted Outremont as Areg Elibekian does it. The moment Mother Nature takes off her winter cloak, who hasn't seen him plant his easel and spread out his color tubes before the alignment of the terraces of Bernard Street, in order to capture the morning strolls or the exuberance of the end of the afternoon. Areg doesn't love Outremont, he adores it. He is fascinated by the effervescence of the lively restaurants, enamoured with the charm of our beautiful parks, seduced by the shady avenues and their walkers. Ardent passion that lasts 22 years.
"Outremont, it's a corner of paradise that reminds me of the charm of the small pleasant Parisian quarters. It's a place that inspires me, that makes me joyful. I enjoy working outside and participating in the life of the quarter ", _ he likes to repeat. To sketch the beauty of a discreet smile, to live the rhythm of the "Bernardian" walks, to catch the enthusiasm of a waiter, to touch the tip of his brush a nice cornice; these are eruptions of happiness that emanate from his canvases. More than a hundred of them were imagined or created on-site Outremont. In 22 years, this comes to a considerable average of about 5 paintings a year only at home. Prolific. Before the Paltoquet on Van Horne Avenue, on Lajoie Street, and many on Bernard Street, but also in nature, Pratt Park, Joyce Park. His favourite Outremont, that reminds him of Place des Vosges in Paris. He can paint the same subject constantly, without stopping, like the one who caresses his beloved, such great is his pleasure.
"I came to know a lot of people since then", _ he said with amusement. One day he seduced a group of cameramen that had come to the neighbourhood to find locations for a TV series. They fell in love with the extravagance of his installation at Outremont Park, a canvas of 36×48 cm on easel and all the rainbow of color tubes. "Can we shoot a film", _ was the question. The positive answer propelled the artist into the series "Les Jardins vus par…" broadcast on ARTV.
Areg Elibekian is one of these artists completely absorbed by their art. It's not that he fell into it when he was yet a small child. He was born with it. A sort of extension of three generations of painters with the surname Elibekian, an Armenian family from Yerevan. The grandfather Vahgarshag, active in the theatre environment, besides of being a naive painter, is famous for his colorful characters dressed in Caucasian coats and turbans in the markets of the Near East. The second generation, his father Robert who lives in Armenia, is a key figure in the artistic sphere. They say he paints the grace and creates pictorial music with his dancer and musician characters that live in his world since he was a child. His paintings are sold for very high prices. Father and son met a few times in Paris- halfway between Yerevan and Montreal- during several duo exhibitions. In 2008 a unique event- "One name, Three Generations"- assembled the artworks of the three painters Elibekian at the Musée des Maitres artisans du Québec.
When he is not in his studio or painting in situ, Areg takes his role of art instructor at the Montreal Museum of Fine Arts or teaches acrylic painting to adults. He is also a professor of oil painting at the Centre Loisirs et Culture de Ville-Saint-Laurent. He is currently preparing the exhibition "Neighbourhood life" at l'Espace Laoun, that assembles thirty paintings of different neighbourhoods, in particular of Outremont, Plateau and Saint-Germain-des- Prés. A wonderful opportunity to get in touch with the talent of the artist and with the happiness that life in Outremont inspires in him.
Outremont Newspaper