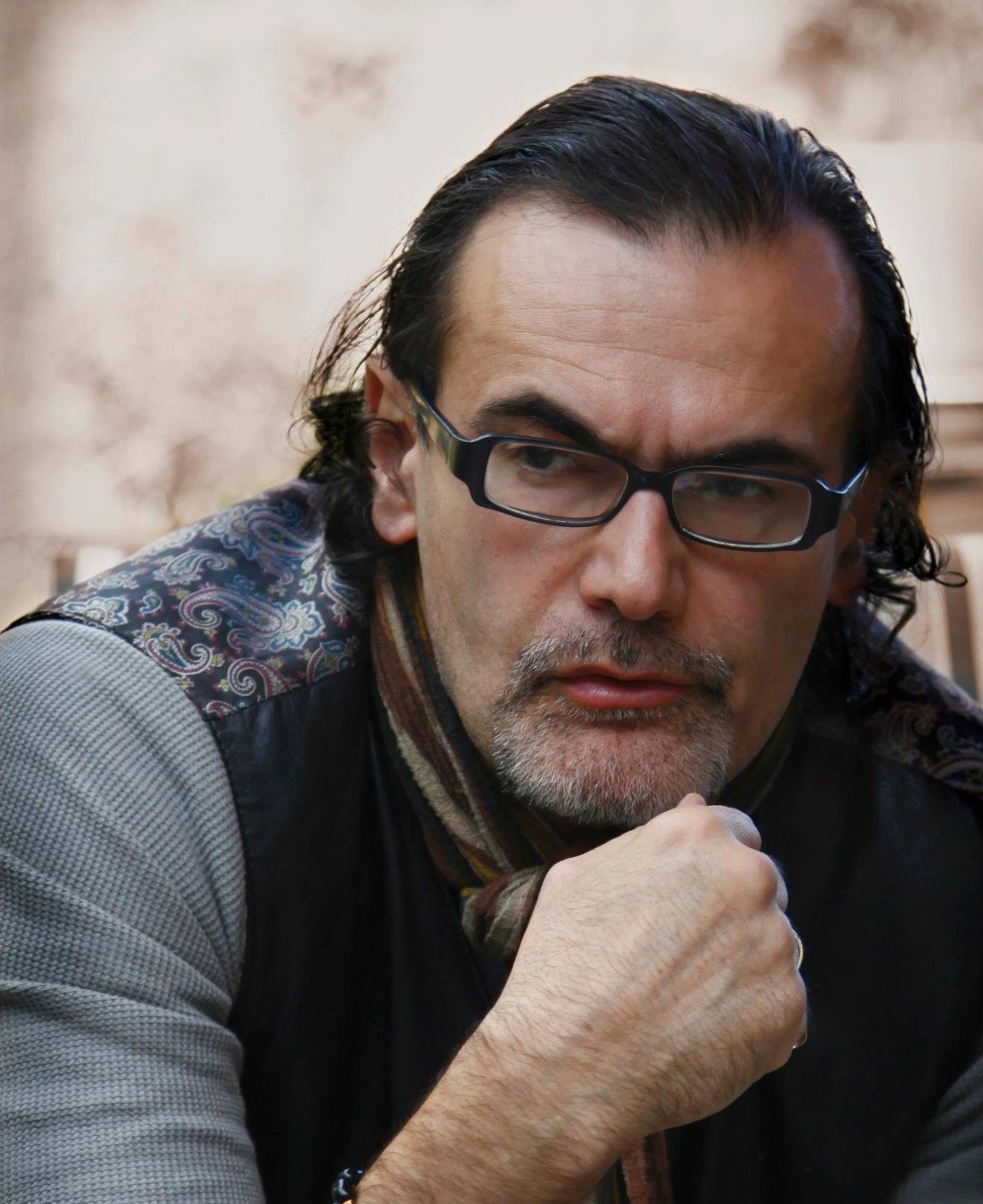 SAMVEL SAGHATELIAN
1958 Born in Yerevan, Armenia
1973 – 1975 Art School, The Central Home of Architects, Yerevan, Armenia
1975 – 1980 Yerevan State University of Architecture and Construction, Yerevan, Armenia
Group Exhibitions
2020 Unlocking Creativity During the Locdown in HAYP POP UP Gallery Yerevan, Armenia
2018 A unique art show dedicated to 15th anniversary of the foundation of Aramé Art Gallery ''Reality of Bliss'' Beiruit , Lebanon
2016 Representing the book "Art Beyond Time" Yerevan, Armenia
2015 "1915", group show, Garboushian Gallery, Beverly Hills, USA
2014 19 annual LA Art Show, works from series "TransRomance", Coagula Curatorial Gallery, Los Angeles, USA
2013 "Overload", group show, Garboushian Gallery, Beverly Hills, USA
2013 "The New Testosterone", 3 person show, Coagula Curatorial Gallery, Los Angeles, USA
2012 Map Blanket and Performance "Open Censorship", International Contemporary Art Festival "Land and Technology" organized by "Shushi Art Project" from Los Angeles , Shushi, Karabakh
2012 "In Search For Paradise", Centro Arti Visive "Pescheria" collaboration with Antikyan Gallery, Pesaro, Italy
2012 Group Show, Bruce Lurie Gallery, West Hollywood, CA
2012 17 annual LA ART SHOW, Mooradian Gallery, Los Angeles, USA
2011 25th Anniversary of La Luz De Jesus Gallery. Los Angeles, USA
2011 "Independence", Alternative Contemporary Art show , Freedom Square,Yerevan, Armenia
2011 "Mysterious Objects", portraits of Joan Quinn, Santa Ana Art College, California, USA
2011 Group Show , Museum Carcere Borbonico, Avelino, Italy
2010 Group Show "Armeni", Castel del Ovo Museum, Napoli, Italy
2009 "Knights and Hunters" Black Maria Gallery, Los Angeles, USA
2009 Aqua Art Miami 2009, Black Maria Gallery, Miami, USA
2009 LA Digital , Juried Show (curator Rita Gonzales , LACMA), Los Angeles, USA
2009 "Everything But The Kitchen Sync" , La Luz De Jesus Gallery, Los Angeles, USA
2008 3 Person Show, La Luz De Jesus Gallery, Los Angeles, USA
2007 "Bound & Gagged", group show of Prison Art from former USSR and from Los Angeles prisons and 15 international artists. Black Maria Gallery, Los Angeles.
2007 Juried Group Show, Avenue 50 Studio, Los Angeles, CA
2007 "Deeeeesire" Gatoo Galleries,California State University, Long Beach, USA
2006 "PMS Revolution", Black Maria Gallery, Los Angeles, USA
2006 "Hot: Images That Sizzle" APG Gallery, Atlanta, USA
2006 Gallery Bremen, Berlin, Germany
2005 "Macho Bullshit" Black Maria Gallery, Los Angeles, USA
2005 "Over the Age" APG Gallery, Atlanta, USA
2004 "Arrival" Articultural Gallery, Los Angeles, USA
2003 Hunter Times Square Gallery, New York
2002 Exhibition of Armenian Artists: Tehran Museum of Contemporary Art, Tehran, Iran
2001 Arte Domus Gallery, Kortrijk, Belgium
1998 "At the Brink of 21st century" Museum of Contemporary Art , Yerevan, Armenia
Personal Exhibitions
2015 "Enter Through the Smoke Shop" Personal and Political protest signs, Yerevan, Armenia.
2011 Mixed media project "BODY: Ghost Phallus", Bleicher Gallery Project Space, Los Angeles, USA
2004 Series "Victuals" and "Grotesque Reality", Articultural Gallery, Los Angeles USA
2003 Series "Grotesque Reality", Harvest Gallery, Glendale, California, USA
2002 New body of work from series "Grotesque Reality"Vermont Studio Center, Johnson, Vermont State, USA
2005-2009 His paintings are displayed in Black Maria Gallery (Los Angeles, USA),
Samvel Saghatelian: Grotesque Realities
He may deny it (proclaiming "Surrealism was outdated [a] long time ago"), but there is a true Surrealist working in our midst. Samvel Saghatelian is a "true" Surrealist because he puts the whole of his artistic energy at the service of the dream. In this service, and to confound our expectations further, Saghatelian's vision engages a constellation of styles. He doesn't have a signature "look," he has several. His Grotesque series presents Saghatelian as a deft and expansive caricaturist, an animator of human folly: the paintings and drawings in the Grotesque series update Punch & Judy, replacing the crude knockabout of the puppet show with the petit pathos of debased every people, spiced with exaggerated features and skewed perspectives such as are found in dream images.
Saghatelian's sensibility not only obeys his dreamt grasp of reality but embodies that grasp in a literary manner. One finds oneself reading even the most purely visual of his artworks, finding crucial bits of information embedded in the busy pictorial fields he favors. The tiny bed in the corner of a Grotesque painting, a shadow floating behind or near a more articulated figure in one of the Open Letters on Black, a remote scribble in one of the Open Letter from Left abstracts, a collaged figure nearly engulfed by fruity pulp in one of the photo projects, any of these may go unnoticed at first glance, but when they appear on further examination, their tiny resonances fill in meaning(s) like pieces missing from a nearly completed jigsaw puzzle. Except that, when they fall into place, the revealed picture is not the usual reaffirmation of what we know and what we want from the world, but a revelation of what we want to avoid knowing and want to deny the world contains.
Those familiar with Eastern European literature, notable for its mordancy, will find a similar dark grasp of the world coursing through Saghatelian's art. But the resiliency with which the humankind in his imagery struggles with its fate is distinctly Central Asian, at once fatalistic and defiant. Saghatelian embellishes on this peculiarly Armenian condition by reminding us of the universal fact that dreams are part of memory, and vice versa. Dreaming is an act of re-knowing – of making new sense of old recollections, of rehashing the effects of what has happened to one so that one can better negotiate one's way through what is going to happen. If knowledge is power, dream-wit – the intuitive, perhaps even psychic knowledge of the subsconscious mind – is skill, the skill to reshape the world (which, of course, shapes most of us to a far greater extent than any of us shapes it) on the unreal – yes, surreal – level of personal meta-consciousness.
Saghatelian is a true Surrealist; but in cycling back to, rather than seeking release from, reality, he is, as he insists, no Surrealist at all.
Peter Frank
Senior Curator at the Riverside Art Museum
Art critic for Angeleno Magazine and La Weekly
Editor of THE magazine