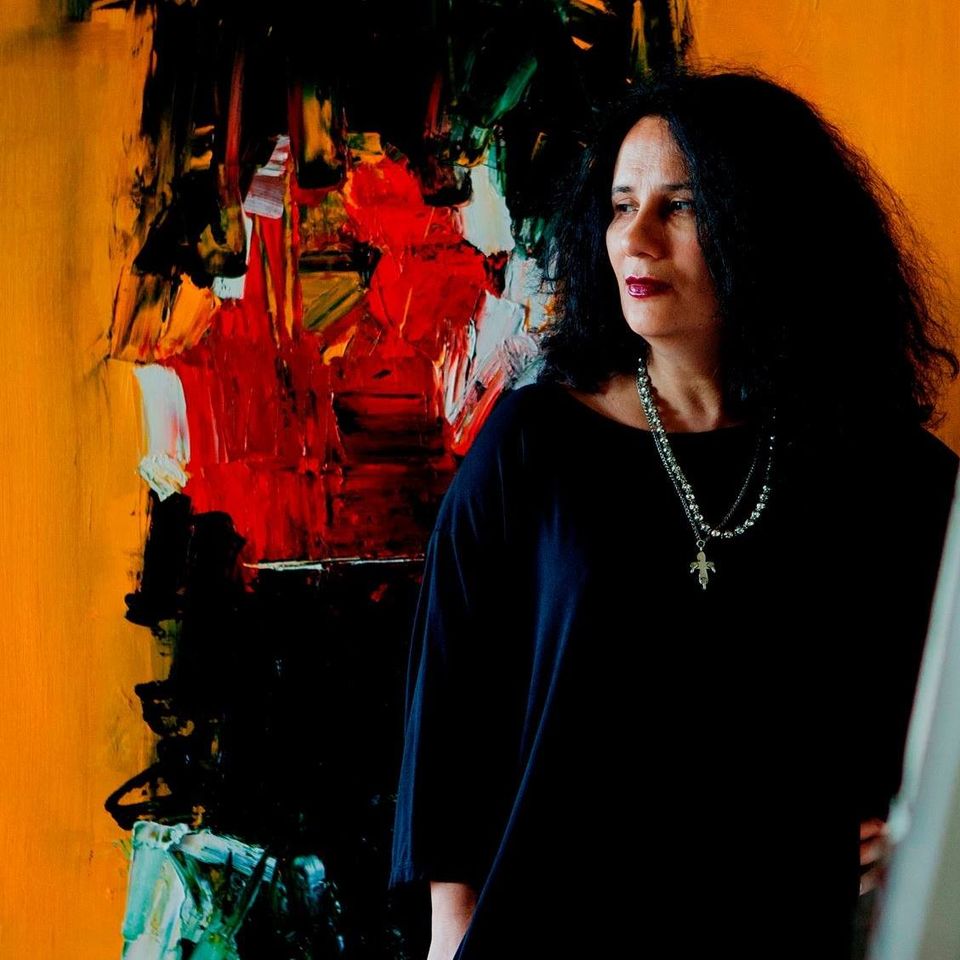 MOKO (MARIAM) KHACHATRIAN
Moko (Mariam) Khachatryan was born in 1967, Yerevan in the family of outstanding Armenian painter Roudolf Khachatryan. She grew up in the atmosphere of art and culture and began to paint at the age of 2. Her constant conversations on art with her father raised in her love towards the art.
1980-1983 studies at Esthetic Education Center under supervision of H. Igitian
1983-1987 Terlemezian Fine Arts College
1987-1991 Yerevan Fine Arts institute
2019.;Spring Republican exhibition.Artists' Union of Armenia
2018.'Selections of Armenian contempory abstract art' 11 armenian abstractionists .Cafesjian centr for the art. Yereva
2018.I Am Not Afraid To Fly - Armenian Art in Dubai' Gala art Gallery
2018.'Crossing paralels' Moko Khachatryan and Harut Hakobyan. Gala Art Gallery
2017 .'Reconsidering Nature' Cafesjian center for the art
2017. Yerevan Modern Art Museum will take place exhibition opening, dedicated to the 45th anniversary of the Museum.
2016."Fundraising Gala Dinner with Charity Art Auction .Highlight of the evening is a live demonstration by Moko Khachatryan."AvestArt Zurich
2015.EXHIBITION - "A Story of Colors & Shapes"AvestArt Zurich
2015. "WORLD ART DUBAI 2015"Gala Art Gallery
2014 - "Carousel de Louvre", Paris, France
2014 - Group Exhibition, Dalan Gallery, Yerevan Armenia
2014. Personal exibition "Black,white and Red" Yerevan Modern Art Muzeum.
2013 Group exibition N2 Central House of arists Moscow. 2012 Group exibition "Abstractionizm" gallery " Red square" London
2012. Group exibition" Black Grow" Yerevan Modern Art Muzeum 2012 Personal exibition" Esquisse Gallery" Beirut
2011 Epicenter/ Special eventby Moko Khachatryan and Hayk Melikyan Yerevan Modern Art Muzeum
2011 Group ezhibition -Gulbekyan Hall,New -York
2011 Group ezhibition Kuveyt
2011 Constitution&Art The Constitutional court of Armenia
2011 Optimizm Armenian New Art .Artists House,Yerevan
2010 Armenian Abstractartists. Yerevan Modern Art Myzeum
2010 Group exhibition NPAK
2009 Personal exhibition Gallery1
2008 Personal Exibition Gallery Gevorgyan Yerevan. 2007 ArtBridg personal exhibition
2005 The woman exhibition Ministry of FOREIGN AFFAIRS. Yerevan.
2004 A Gallery '' A way to Neo – Abstractionism'', Moscow
2001 Virtual Art NPAK ( Center for Contemporary Experimental Art ), Yerevan.
1999 Armenian Embassy in Moscow
1998 Group exhibition, Artist' union of Armenia.
1996 The 'Quite New Group' Central Artists' House, Moscow.
1996 State Tretiakov Gallery 'Association of Moscow Artists and Calleries' from Nina Gallery.
1996 The Sound of Music, Central Artists' House, Moscow.
1995 Czech Center; The Glance of Czech Photographers and Armenian Artists, Moscow.
1995 Latin America Embassies and Nina Gallery,' Carnival', Central Artists' House,
Moscow
1995 Charitable Exhibition of Russian and Armenian Artists, dedicated to the 50 th
anniversary of victory in WWII, Central Artists' House, Moscow.
1995 Membership in Moscow Artists Federation, UNESCO
1994 Armenian Embassy in Moscow, Nina Gallery
1994 Moscow Artists (The Old Library Emmanuel Colleg, London)
1993 Personal exhibition,, East Gallery,Moscow
1991 Third Floor Exhibition, Les Ceent, Paris,
Some of her are paintings exhibited in different private collections in France, Germany, Italy, England, Czech Republic, Russia etc., as well as in Modern Art Museums in Kuwait and Armenia.
Mariam Khachatryan (MOKO) uses abstraction to express what cannot be represented through symbolic language. She creates fantasy landscapes, offering keenly envisioned environments in which the eye, and the heart, can frolic unfettered. With strong graphic line complicated coloring and layering of paint, MOKO creates dreamscapes that are dynamic and compelling. She has collaborated with musicians who have translated her visual arenas into the aural land of sound, timbre, pitch, and rhythm. All of the senses available to the human figure are stimulated in her work.
Kathryn Hixson
Art critic, New York
You fly aloft, falling into the barbed wire for a moment. You escape from it and it seems that you don't even feel the colic and continue to fly. You pass through wind circles, through black and dark and then bright passages. All of a sudden some pieces of ice shed on you. You continue to fly aloft and feel the nails beneath your feet which are hot and ting because of the boiling rain. The nails seem to bring pleasure from the first glance, but in couple of seconds, you…
Here is Moko 's art expressing the relationship of her deep personality, reality and canvas. I am deeply impressed by Moko's vivid imagination. Her unique individuality brought new shades of color to my musical thinking with emotions often incomplete and often with constant images. It seems to me, I found that the epicenter of the conflict of emotions, which give rise to inner joy.
Hayk Melikyan
Pianist and composer
With strong graphic lines and layers of paint, Mariam Khachatryan (MOKO) creates abstract paintings that splendidly echo opulent Gothic stained glass windows. A close look at Moko's paintings reveals intense gestural engagements, whereby surfaces at once contain controlled, angular and geometric lines in the company of loose, painterly brushstrokes. As this duality of linear control and experimentation connects her work ta aspects of Cubism, Constructivism, and Abstract Expressionism, it gives rise to a distinct direction of postmodern abstraction. In Moko's compositions, the compilation of lines does mot function as a mere support of the monumental, center figure; every linear trace is design with its own values. In these paintings of Moko lines forcefully constitute forms that sing their own songs. Light and darkness in these images come across as optical forms of voice and silence of spirit and body. In this manner, Moko reveals the endlessness of original insofar as the hand and eye collaborate to experiment, explore , mark, erase and re-mark the surface of the canvas. This labor of love of Moko compellingly bridges the gaps between the artist, paint and beholder.
Vicki Hovanessian, Curator
Raphy Sarkissian, Co-curator
While watching Moko's recent stage paintings, one cannot help noticing the geometric net on the canvases which seems to comprise and bind separate fragments. Every single fragment contains symbols, which leads me to compare Moko's paintings with maps. These are undoubtedly metaphysical maps, spirit road maps; that lead to perfection. These are ways to spiritual conflict solution. I get these impressions specifically from her "Towers" line. The painter confesses that she would like to build them only up.
Mathematicians know two eternities- useless and indefinite and constructive. The painter seeks constructive eternity, creates immanent , available perfection. I would call Moko an artistic theologian, an unintentional neoatheist, who has combined the rational with the glorious. She is, as well, a metaphysician in expressing human relationships. Several of her paintings are dedicated to, as she says, androgyny, but I think they are the road maps of a man and woman relationship. Man and woman relationship is a war where the feelings turn to pieces. Love is the creation of a whole unit out of the pieces of two persons' feelings.
Her juvenile paintings were more liberal, but indefinite. Now they are more distinct, caring, sorrowful and mature, They are closer to us and to the eternal.
Vardan Jaloyan
Culturologist, art critic and curator
Abstractionism is the art of penetrating into the spirit of physical objects. It´s the art of stripping off all the superfluous attributes to reveal the true essence of things in all their splendor and misery. This puts immense responsibility on the shoulders of the abstract artist. Yet no one carries it with such level-headedness, poise and elegance, as MOKO.
And this is because she gracefully combines the two most important qualities that bring us closer to the true nature of reality: rationality and sensuality. Emotions and reason are not at war in the artworks of MOKO. They work hand in hand, guiding us to the deeper, most fundamental layers of existence. MOKO´s feelings are never superficial. Her creations are as intense, as her brave spirit. And the ethereal shapes she defines are as pure and meaningful, as her sharp thoughts. As the poet John Mark Green said: "She is a wild, tangled forest with temples and treasures concealed within…"
Mane Sargsyan