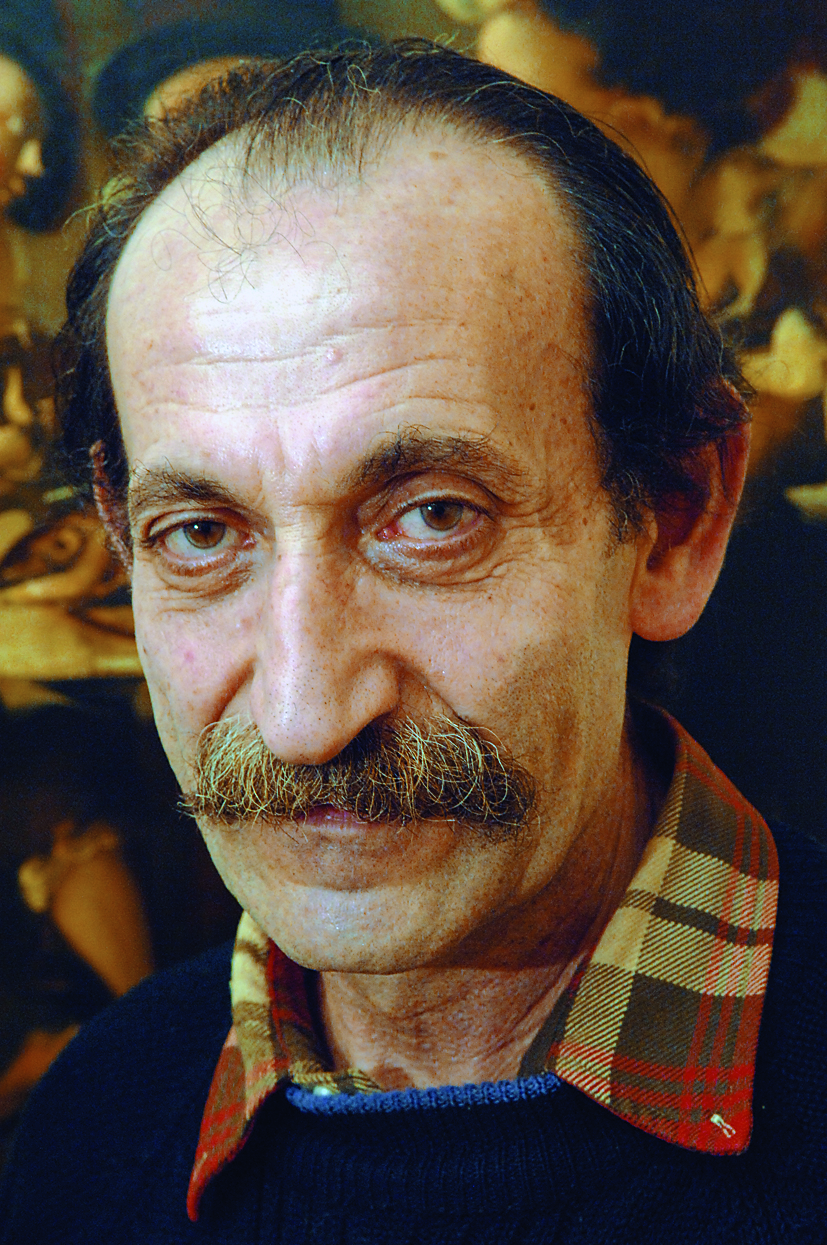 RUBEN ABOVIAN
1948 Born in Yerevan, Armenia
1979 Member of the Artists' Union of Armenia
Since 1991 Ruben Abovian holds the title of Honorable Artist of the Republic of Armenia.
Exhibitions
1978 Molodaya Gvardia Moscow, Russia
1983 Armenian Colors Montreal, Canada
1983 Galerie ARTE Tampere, Finland
1984 BIA Oberbank Hauptplatz Vienna, Austria
1984 Kunst des Sowjetischen Armenians Berlin, Germany
1985 Galerie Basmadjian Paris, France
1986 Mall Galleries London, England
1986 Strana Sovetov Moscow, Russia
1987 La Pintura Contemporánea de Armenia Madrid, Spain
1988 Biennale International de Kosice Czechoslovakia
1989 Nationwide Juried Exhibition (Honorable Third Place) Moscow, Russia
1991 The New Academy Gallery London, England
1993 Gallery Nikol Manoukian New York, USA
1995 Espace Topalian Geneva, Switzerland
1996 Post-Soviet Painting Beirut, Lebanon
1996 Espace Berthelot Lyon, France
1997 Galerie Mouvances Paris, France
1998 Artexpo New York, USA
2000 Artexpo Las Vegas, USA
2001 Artexpo New York, USA
2002 Wentworth Gallery Washington, USA
2003 International Artexpo New York, USA
2003 "Romantic Realism" at Arame Art Gallery Yerevan, Armenia
2004 International Artexpo New York, USA
2004 Gallery "A" Moscow, Russia
2008 Personal exhibition at Arame Art Gallery Yerevan, Armenia
2010 Art Center of Haigazian University Beirut, Lebanon
2010 New Masterpieces of Arame Gallery Yerevan, Armenia
2011 UNESCO Palace with Arame Gallery Beirut, Lebanon
2012 Grand Opening of Arame Art Gallery's New Branch Yerevan, Armenia
2012 "Symphony of Colors" Beirut, Lebanon
2012 "Masters of Contemporary Renaissance" Beirut, Lebanon
2013 10th Anniversary of Arame Art Gallery Yerevan, Armenia
2013 Selected Art Works Beirut, Lebanon
2013 "Sensual Revelations" Beirut, Lebanon
2014 "Selected Art Works 2014" Vienna, Austria
2014 "Beauty in the Palm" Beirut, Lebanon
2015 '' Inner Lighthouse'' Beirut, Lebanon
2015 ''Artworks of Honorable Artists'' USA
2015 ''Art Exhibition Presented by Arame Gallery'' USA
2015 ''Inner Lighthouse'' Beirut, Lebanon
2016 ''Armenian Masters of Contemporary Art'' USA
2016 Representing the book ''Art Beyond Time'' Yerevan, Armenia
2017 ''Celebration of Dreams'' Beirut, Lebanon
2018 ''Between Heaven and Earth'' Beirut, Lebanon
2019 ''Contemporary Armenian Fine Art'' Kuwait
2019 ''Daydreams on Canvas'' Beirut Lebanon
Corporate Collections
National Museum of Fine Art Yerevan, Armenia
Museum of Modern Art Yerevan, Armenia
Tretyakov Gallery Omsk, Russia
National Museum of Art Tomsk, Russia
National Museum of Fine Art Pavlodar, Kazakhstan
National Museum of Fine Art Bishkek, Kyrgyzstan
Ruben Abovian has long been recognized as a painter of extraordinary ability by many world famous art critics and artists. His imagination is free and he produces an outstanding work that made him a distinguished artist. Abovian's exhibitions are always considered to be an important event. He is a true pioneer and has introduced many bold innovations to European painting. Ruben Abovian has established a new direction in today's contemporary art. I have been impressed by the impact and the mystery of his personages and characters with no faces and eyes. It is majestic and bewitching!
YVES BERTHELOT
UNITED NATIONS, GENEVA
EXECUTIVE SECRETARY OF THE CEE
---
Duality of image and interpretation: the adults are eternal kids trying to act as adults… The pleasure is great for having discovered a new way of painting. At last the future of painting has new roots.
P.A.A. Bauer
Art Critic
---
Ruben Abovian is one of those artists who has started at the top and stayed on the same level in each and every painting - a miracle born by inferable feelings of a real artist, by primordial consistence built in his mind. Ruben Abovian's artworks, their plot and nuance assortments are filled with distinctive spiritual expression. In his paintings, the entire pattern of narration interflows into one soulful accord, without gaining the grotesque exacerbation. It is compressed into a segment of minute, day, eternity, where everything that awaits us in the future has already happened in the past…
Great talent. A painting with psychological tendency. Full of daring boldness and audacity, which unveils to us a deeper sensitivity. But together with this, there is humor that extends up to a sort of roguery and rascality. The more our eyes linger on these canvases, the more we are captured by their spell. The paintings seem to be animated. They tempt you. Seduce you. Some sort of particular magic comes out from the personages in the paintings. They call you. Question you. Our sensibility, our emotions are imprisoned by an impact of suspense. Our admiration has no limits. Only the great masters had this gift to display such masterpieces. We discovered in these works a strong personality and genuine talent.

Victoria Terzian
Art Critic
---
This is a rare authenticity. The paintings are full of fantasy and imagination. They are impregnated with sensible poetry and imbued with grace and variety.
Angelino Francesconi
Art Critic
---